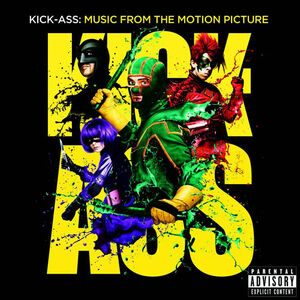 The soundtrack album for American-British superhero-action-comedy Kick-Ass (2010): Music from the Motion Picture features tracks from various artists, including The Dickies, The Prodigy, Ellie Goulding, The Hit Girls, and others. All of these tracks were used in the movie Kick-Ass.
01. Stand Up - The Prodigy
02. Kick-Ass (We Are Young) - Mika feat. RedOne
03. Can't Go Back - Primal Scream
04. There's a Pot a Brewin' - The Little Ones
05. Omen - The Prodigy
06. Make Me Wanna Die - The Pretty Reckless
07. Banana Splits - The Dickies
08. Starry Eyed - Ellie Goulding
09. This Town Ain't Big Enough for the Both of Us - Sparks
10. We're All In Love - New York Girls
11. Bongo Song - Zongamin
12. Per Qualche Dollaro In Piu - Ennio Morricone
13. Bad Reputation - The Hit Girls
14. An American Trilogy - Elvis Presley
15. Flying Home -  Henry Jackman and John Murphy
16. Gnarls Barkley - Crazy
Community content is available under
CC-BY-SA
unless otherwise noted.