Don Rocco Genovese appears in Kick-Ass 3 issue 2. Also known as "Ice Man". He is Chris Genovese's uncle and became head of the Genovese Crime Family when Ralph and John died.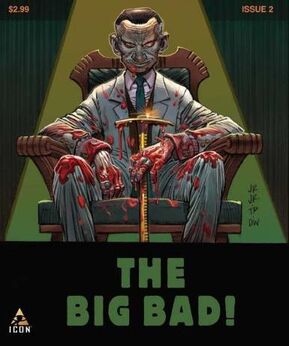 History
[
]
After the event with his brothers' deaths, he learns that Chris formed his own villainous team and failed at defeating Kick-Ass and Hit-Girl. He visit Chris at the hospital and takes his nephew under his wing after his recovery.
Don sets a celebration party for his nephew's recovery and protects him against the attack from Justice Forever. Knowing this is a problem for him, he takes it upon himself to make Chris into that evil supervillain he once was and train him in the family way. 
He dies in the last chapter of Kick-Ass 3. He's killed by Hit-Girl, who murderers him by hitting him over the head with his own weapon.
Trivia
[
]
Don is the only adult Genovese to have a criminal name ,"Ice Man".
His nickname "Ice Man" is based on his favorite choice of weapon for killing, a big golden ice pick.
Don's facial and head hair features is similar to Ra's Al Ghul, one of Batman's villains. 
In Issue #4, it is revealed that he has killed 98 people with his ice picker and he wants Chris to make the 100th kill by using it on Hit-Girl.
He is the first non-costumed villain to actually planout ways of killing his enemies. 
Rocco has only one eye: His left one is Artifical.